Blue Flag Technologies is the market leading provider of SPEC2000 software. We are the first SPEC2000 software vendor to offer a full XML SPEC2000 messaging solution and an integrated Message Portal option both available within the existing SPEC2000 application. Our SPEC2000 software is highly respected within the aviation industry and we are renowned for the high level of support we offer our customers.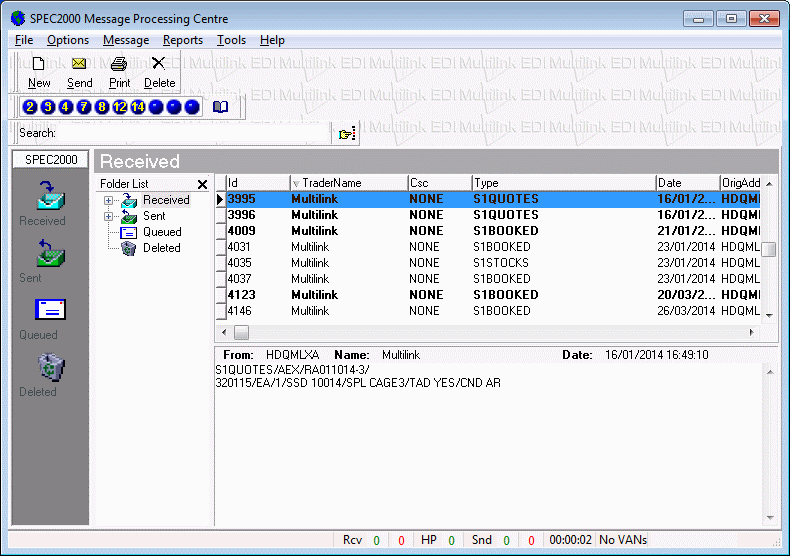 We have dedicated experts to develop and maintain our SPEC2000 software. We have a specialised SPEC2000 support department to give you first class SPEC2000 support. Blue Flag Technologies Ltd. is flexible and responsive to your unique needs. Amongst our major aerospace customers are AAR Corporation, Air New Zealand, GE, Honeywell, IHI Corporation, BF Goodrich, Panasonic Avionics, Rockwell Collins and Rolls Royce all of which have been using our software for a number of years.
Whilst the USA is our largest marketplace, followed by Europe, we also have a user base in the Middle East and Australasia and are geared up to provide world wide support whichever IATA network is chosen.
Blue Flag Technologies provides SPEC2000 desktop software covering chapters 2,3,4,7,8,11,12,14 and XML of the ATA SPEC2000 specification. We also provide SPECCOMM Plus host interface to seamlessly integrate SPEC2000 messaging into your host system. 
Blue Flag Technologies places a high priority on service and support and achieves a consistently high standard - both pre-sale and post-sale. Our customer support is well known to be the most comprehensive and reliable within the SPEC2000 industry.
We have the reputation for being the safest and most reliable source for SPEC2000 software around.
To Summarise
There are many reasons why you should choose Blue Flag Technologies to provide your EDI requirements:
Blue Flag Technologies is the first SPEC2000 software vendor to offer a full SPEC2000 solution. 
Our SPEC2000 was independently certified to conform to the ATA specification.
Blue Flag Technologies, as a founder and long term representative of SPEC2000, has close links with the ATA to ensure your SPEC2000 complies with the most current SPEC2000 standard.
Blue Flag Technologies has built in help and the necessary product documentation to help you get the best from SPEC2000. 
Blue Flag Technologies provides the most comprehensive SPEC2000 service and support available. Our support not only encompasses software issues but also general help and guidance on how SPEC2000 works. 
Our Annual Support and Update Contract provides upgraded software, free of charge.
In short we are offering our users the best and safest option.
Therefore, if you need a flexible and upgradeable solution to which you can add new SPEC2000 Chapters in a seamless manner, without losing your initial investment, then Blue Flag Technologies has the solution for you.