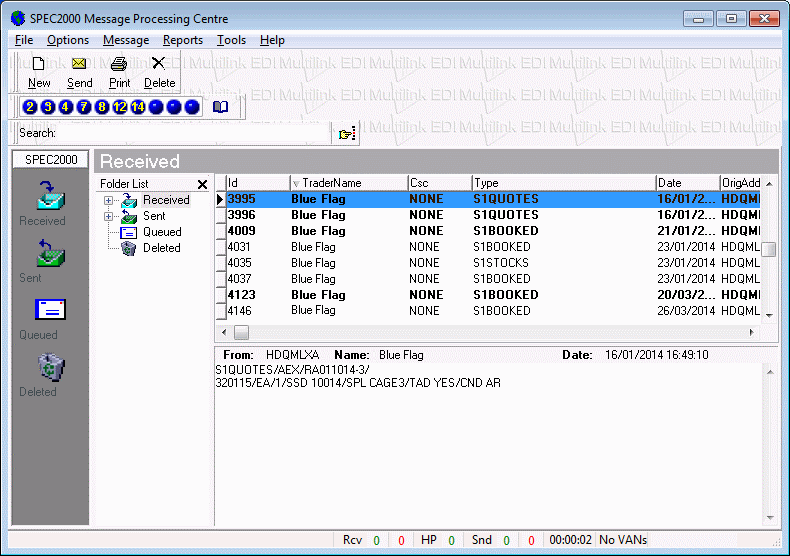 Blue Flag Technologies is an approved, independent, SPEC2000 software vendor, providing flexible and upgradeable SPEC2000 messaging and database solutions for your immediate and long-term requirements.
Whether you are starting out with just one Trading Partner or requiring an automated integrated SPEC2000 solution, Blue Flag Technologies can help you maximise your SPEC2000 potential, supporting you all the way.
The application's strength lies in its extensive customisation facilities, enabling SPEC2000 to fit comfortably into your office procedures.
Customisable main screen, offering sorted directional messages, with the ability to filter specific message types.
Each user is assigned individual access rights to ensure only authorised personnel can access the system.
Setting up Trading Partners allows you to indicate which message types each one can accept and which A4A (ATA) Simple Message Revision (SMR's) they have implemented.
Message turnaround enables you to select incoming messages from the message summary and transfer the relevant data to your chosen outgoing message automatically, thus enhancing accuracy, reducing response time and re-keying.
What Areas of Business do you wish SPEC2000 to address?
SPEC2000 is broken down into modules; each module contains a number of A4A (ATA) SPEC2000 Chapters. Each Chapter addresses a different type and/or area of business. We have grouped the Chapters and developed software to address the following areas:
Chapters 2,3 & 4 - SPEC2000 Order Administration - Aircraft Parts or Spare Parts - Quotes, Orders, Invoices, Enquiries & Central Procurement Database Access
Chapters 7 & 8 - SPEC2000 Repair Order Administration - Repair & Overhaul of Aircraft Parts - Quotes, Orders, Invoices, Enquiries & Central Repair Database Access
Chapter 11 - Reliability Data Collection and Exchange - Exchange part reliability, aircraft ownership changes, event and logbook data in the standardised A4A (ATA) format.
Chapter 12 - SPEC2000 AIRS - software to access the A4A (ATA) Airline Inventory Re-Distribution System Database. Allows subscribers to view data and part owners to update, delete and add information on aircraft parts. AIRS specifically addresses surplus stock and second hand aircraft parts.
Chapter 14 - SPEC2000 Warranty Claim Placement - Warranty Administration - Warranty Claim Placement, Progress Enquiries, Reporting the Outcome
The SPEC2000 software enables you to choose any combination of SPEC2000 modules and incorporate them into one fully integrated, cohesive package. You can purchase one, two, three or four modules, at increasing rates of discount. If at any time in the future you find you require any additional modules, these can be added to your current system, in a seamless manner.
Blue Flag Technologies SPEC2000 Message Portal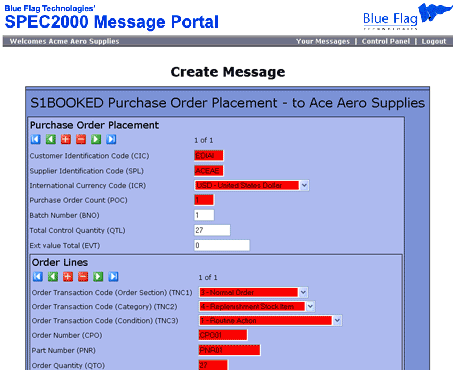 The Blue Flag Technologies SPEC2000 Message Portal is a service fully developed and controlled by Blue Flag Technologies to allow message access to your SPEC2000 installation by your trading partners with just an Internet connection.
Once login and security information has been established, your trading partner is given the option of entering message data for the message types that you have chosen to receive.
The entry screen will only allow a valid message that complies with the A4A (ATA) standard to be included in the message. The message will be displayed in your SPEC2000 summary in the normal way, but clearly identified as originating from the Blue Flag Technologies SPEC2000 Message Portal
Blue Flag Technologies SPEC2000 XML Modules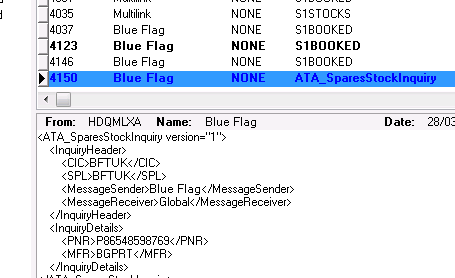 The Blue Flag Technologies SPEC2000 XML Module allows you to send and receive messages that adhere to the A4A's (ATA's) XML specification to and from your trading partners.
The XML module will function seamlessly within the standard Blue Flag Technologies SPEC2000 environment and will be displayed in the usual way when opened and printed, but can be clearly identified by the XML data contents on the message display if required.